The 2023 Cultural Exchange Program in Poland
May 31, 2023
After a few years' suspension due to pandemic-induced travel restrictions, this summer the Paderewski Festival restarts its unique Cultural Exchange Program in Poland. Two young pianists from California's Central Coast, who are prizewinners in the annual Paderewski Youth Piano Competition, will fly to Warsaw on June 21 to experience over two weeks filled with unprecedented educational and performance opportunities as well as with music- and history-related sightseeing. Thanks to the generosity of the Festival's sponsors, all expenses associated with this program—including flights, hotel accommodations and meals, tuition and other fees—are covered by the Paderewski Festival Board.
The two pianists selected this year are Suri Kim (15), a student of Dr. Lynne Garrett, and Aidan Purtell (17), a student of Roberto Plano at Indiana University's Jacobs School of Music. Suri Kim's mother, Eunyoung Kim, will serve as chaperone for the two minors on this trip. Marek Zebrowski, Director and Curator of the USC Polish Music Center and the Artistic Director of the Paderewski Festival in Paso Robles, will also accompany the group on this Cultural Exchange Program.
Suri and Aidan will first participate in a master class given by professors Grzegorz Mania and Piotr Różański at the Music Academy in Kraków on June 24. They then continue with a week of intensive coaching and performances at the Malopolska Talent Academy in the southern mountain resort of Łącko between June 25 and July 1. Once there, they will be tutored there by two distinguished Kraków Music Academy professors, Jan Kalinowski and Marek Szlezer, and interact with dozens of their peers from various music schools throughout Poland.
Another concert featuring these two talented performers is planned for July 2 at the Karwacjan Manor House Art Gallery in the hillside town of Gorlice. It will be followed on July 4 by Suri's and Aidan's appearance at the Steinway Piano Salon in Warsaw. For their master classes and concerts in Poland, the students have prepared a wide variety of solo piano works by Bach, Haydn, Chopin, Paderewski, Prokofiev, Scriabin and Tchaikovsky.
While in Kraków, the two American students will visit the Paderewski Institute of Musicology, part of the historic Jagiellonian University, where they will have a chance to view Paderewski's musical manuscripts as well as the Maestro's private library collection. In Warsaw, Suri and Aidan will visit the Chopin Museum and the Royal Castle and stop by various places associated with young Chopin's life in Poland's capital city. The Exchange Program terminates on July 5 with the students and chaperone leaving for the United States from Warsaw on July 6.
Biographies of participants in the Paderewski Festival 2023 Cultural Exchange Program in Poland:
Suri Kim (15) received her first major award at the young age of eight, winning first prize at the California Piano Music Teachers' Contemporary State Finals. Suri has participated in the Paderewski Festival Youth Competition for the past five years and has been awarded prizes each year. She was subsequently invited to perform as a soloist at the Paso Pops Concert in July of 2019. Suri has also won many other awards locally and nationally, including the CAPMT Honors Competition State Finals, Southwestern Youth Music Festival, MTNA Competition, and Golden Key Music Festival, in which she earned a performance at Lincoln Center in New York. She attends Orcutt Academy High School and has studied piano with Dr. Lynne Garrett since age of five. Suri also loves chamber music and creative writing.
Aidan Purtell (17) currently studies piano with Roberto Plano at the Indiana Univeristy's Jacobs School of Music. He began music instruction at age five and since 2015 studied with Professor Andreas Werz at the California State University, Fresno. Aidan made his professional debut in January 2022 on the Philip Lorenz International Keyboard Concert Series. In addition to his regular studies, he has had the privilege to perform for such noted pianists as Garrick Ohlsson, Hung-Kuan Chen, Asaf Zohar, Tamás Ungár, Fabio Bidini, Gary Graffman, Jon Nakamatsu, Antonio Pompa-Baldi, Kathryn Brown, and Alexander Kobrin. Aidan has participated in many prestigious summer festivals and competitions, including the PianoTexas International Festival, the Philadelphia Young Pianists Academy, and the Odyssiad International Piano Competition in Fort Collins, Colorado. Aidan was awarded first place at the 2022 MTNA Indiana State Piano Competition. In 2021, he was awarded first place at the State Finals of the MTAC Piano Concerto Competition. He was also awarded second place at the 2021 and 2020 Paderewski Youth Piano Competitions in Paso Robles, California, and at the 2020 Centro Franz Liszt Youth Piano Competition in La Nucia, Spain. Aidan continues to perform in various venues throughout the United States and Europe.
Partners for Paderewski Festival 2023 Cultural Exchange Program include: SPMK - Polish Chamber Musicians' Society, Małopolska Talent Academy, Porta Musicae, Instytucja Kultury Województwa Małopolskiego, Muzeum Dwory Karwacjanów i Gładyszów, the Małopolska Region, Karwacjan and Gładysz Family Manors Museum in Gorlice, Riff Piano Salon/Warsaw, Steinway Pianos, and the USC Polish Music Center.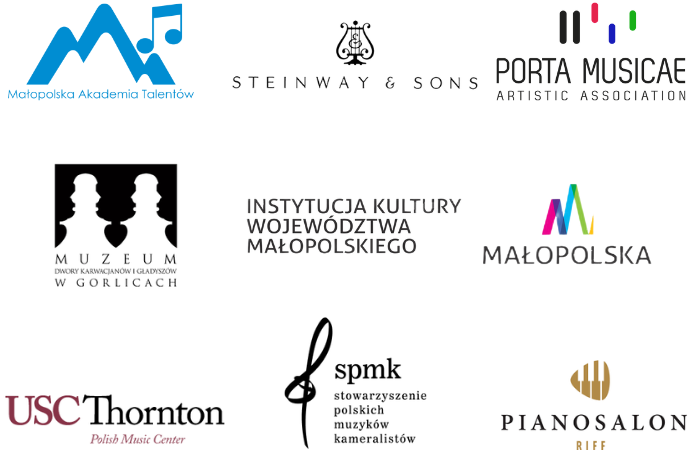 For more information, please visit www.paderewskifest.com website, email paderewskifestpaso@gmail.com, or call 805.235.5409.
« Back to News