2009 Paderewski Youth Piano Competition Winners
Winners of the 2009 Youth Piano Competition Announced.
Winners of the 2009 Paderewski Youth Piano Competition were announced October 24 following a day-long competition held at the North County campus of Cuesta College. These young pianists will participate in the 2009 Paderewski Festival in Paso Robles, November 12-15, celebrating the legacy of musician, statesman and humanitarian Ignacy Jan Paderewski with four days of concerts and special events.
The 2009 competition was expanded from San Luis Obispo County to include youth from Monterey and Santa Barbara Counties. Twenty-four entrants, ages 10 to 18, competed both for prize money -- $2,450 will be awarded among finalists -- and the privilege of performing during the winners' recital in the historic Paso Robles Inn Ballroom, Saturday, November 14 at 4 p.m. The event is free and open to the public.
Winners in the Junior Division are: Hyun Jee Kim (13) of Monterey (1st place); Jordan Adams (14) of Salinas (2nd place); Gianna Zufall (12) of Arroyo Grande (3rd place). The Jury also awarded Honorable Mentions to Rory McClish (13) of Morro Bay and Madeline Anderson (13) of Monterey. Finalists in the Senior Division are: Daphne Honma (16) of Santa Barbara (1st place) and Kevin Chen (17) of Marina (2nd place).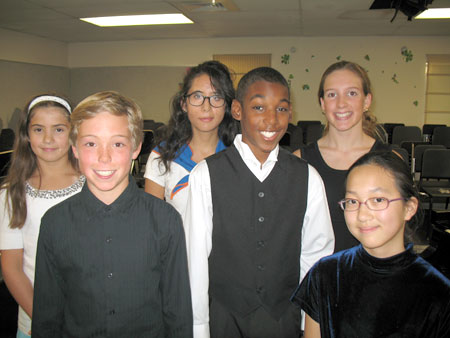 Judges included Marek Zebrowski (Paderewski Festival Artistic Director and Director of the Polish Music Center, Thornton School of Music at the University of Southern California), India D'Avignon (California Polytechnic University, San Luis Obispo), and Michael Walker (Cuesta College). "The Jury was very impressed with the maturity, musicianship and admirable virtuosity of the winners, especially in the Junior Division," said Zebrowski. "We looked for the ability of the contestants to handle different kinds of styles and repertoire variety, quality of preparation, and musicianship. It was difficult to select among the finalists."