2022 Gala Concert with Pianist Jakub Kuszlik
October 19, 2022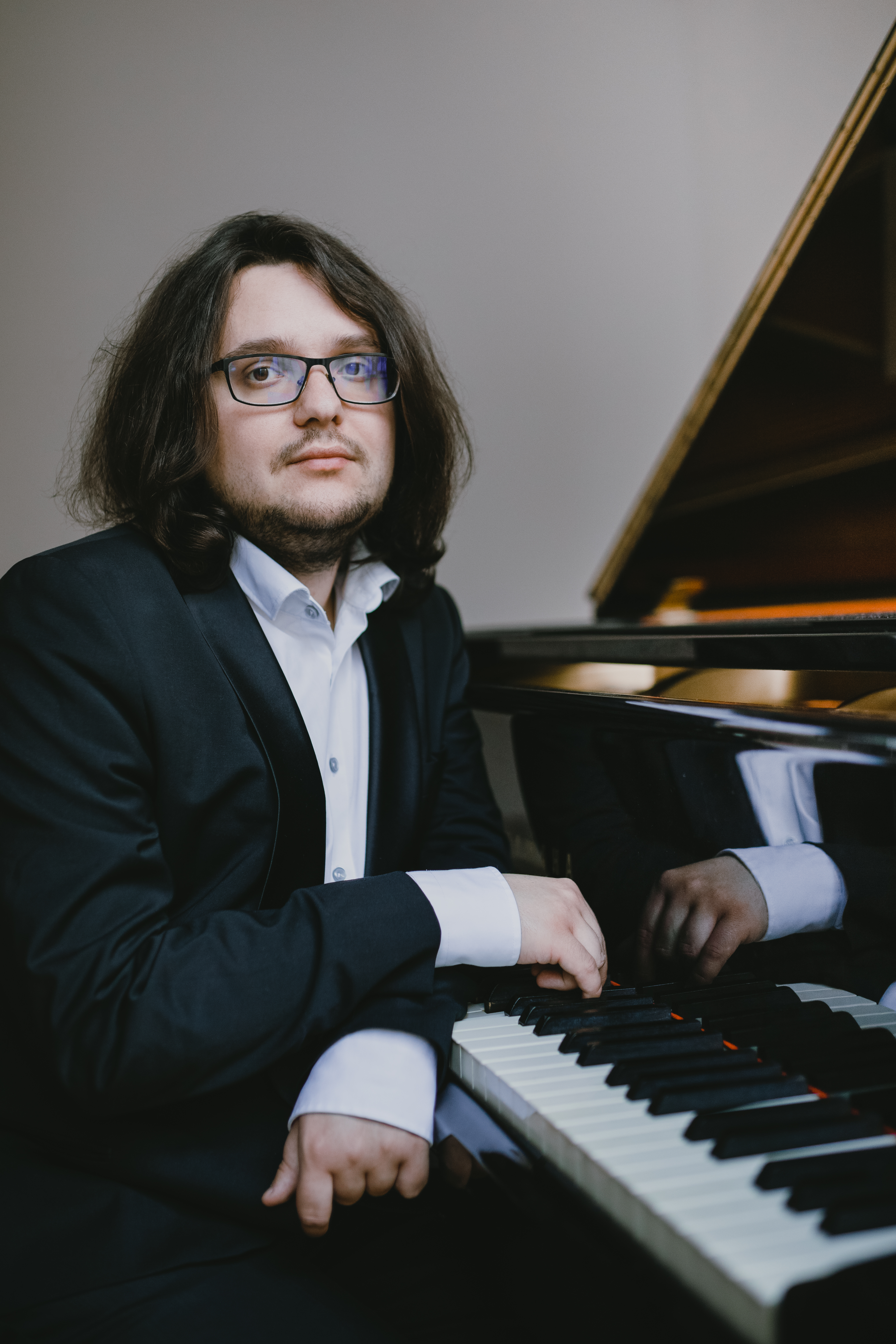 This year's Paderewski Festival culminates on Saturday, November 5, with the Gala Concert held at the historic Ballroom of the Paso Robles Inn Park (1103 Spring Street, Paso Robles, CA 93446). The program includes piano music by Grażyna Bacewicz, Ignacy Jan Paderewski and Fryderyk Chopin presented by Jakub Kuszlik, a prizewinner at the 2016 International Paderewski Piano Competition in Bydgoszcz, and the 2021 Chopin International Piano Competition in Warsaw. The wine reception hosted by Epoch Winery begins at 7 p.m. with the concert following at 7:30 p.m.
Grażyna Bacewicz (1909-1969) was a virtuoso violinist, concert pianist, writer and a prolific composer who studied in Warsaw and Paris in the 1930s thanks to a scholarship funded by Paderewski. Her virtuosic and almost obsessively driven Piano Sonata No. 2 is composed of three classically-structured movements and considered one of the most outstanding works of its genre in the 20th century music. The composer herself world-premiered this extremely challenging work on 17 December 1953 at a Polish Composers' Union concert in Warsaw.
The catalogue of compositions by Ignacy Jan Paderewski (1860-1941) is relatively small due to the fact that, once his spectacular solo career took off after a debut recital in Paris in 1888, he had little time for composing. Thus, most of his opus consists of smaller piano pieces, written in the early and mid-1880s in Warsaw and Vienna, where he studied with Teodor Leschetitzky. Jakub Kuszlik's Paderewski Gala program includes Paderewski's only Polonaise, Op. 9, as well as his Légende, Op. 16, and Cracovienne fantastique, Op. 14. Charming and brilliant, these attractive salon pieces provide a good example of Paderewski's abundant gifts as a virtuoso, and demonstrate his devotion to Chopin's legacy and importance in the history of Polish music.
Maestro Kuszlik's November 5 program closes with two iconic late works by Fryderyk Chopin (1810-1849): Scherzo No. 4, Op. 54 and Piano Sonata No. 3, Op. 58. Composed during the summer vacations in Nohant, France, in 1842, Chopin's Fourth Scherzo is notable for its delicate, filigree piano textures and generally relaxed mood. The four-movement Sonata, Op. 58 is, on the other hand, a monumental, serious and highly complex work, mixing passion and lyricism with driving virtuosity, especially in its Presto non tanto galloping finale. Written in 1844, this is Chopin's last major solo piano work. It's novelty and pioneering approach to the sonata genre were appreciated only many years after Chopin's death, when critics and musicologists finally agreed that the four movements of Op. 58 contained some of the finest music ever written for the piano.
Proclaimed by The Gramophone as "he was born to play Chopin," Jakub Kuszlik (b. 1996) is an exceptionally gifted Polish pianist who studied at the Bydgoszcz Music Academy with Professor Katarzyna Popowa-Zydroń. In 2021, Kuszlik won the Fourth Prize at the 18th International Chopin Piano Competition in Warsaw, where he also received the Polish Radio's Honorable Mention Award for his performance of Chopin's Mazurkas. Such recognition has been awarded at the Chopin Competition for almost a century to such distinguished artists as Garrick Ohlsson and Martha Argerich, among others.
Jakub Kuszlik has also won the Second Prize at the Hilton Head International Piano Competition in New York in 2019 and the Third Prize at the Top of the World International Piano Competition in Tromsø, Norway in 2019. A few years earlier, at the age of 20, he was also the Second Prize winner at the International Paderewski Piano Competition in Bydgoszcz in 2016 and a semi-finalist of the International Beethoven Competition in Bonn, Germany in 2017, in addition to winning a number of piano competitions in Poland.
The young maestro has appeared in concerts throughout the United States, Japan, Vietnam, Germany, Italy, Greece, Norway, Armenia, Iceland and France. His November 2018 performance at the Lincoln Center in New York was met with an enthusiastic reception by the audience. In spring of 2022, Kuszlik's debut recording on the Polish Radio label featured his interpretations of Fantasies, Op. 116 and Klavierstücke, Op. 117 by Johannes Brahms, as well as Four Mazurkas, Op. 30 and the Piano Sonata, Op. 58 by Fryderyk Chopin, showcasing the music's strong emotional charge and both composers' highly individual and innovative musical language.
This concert is part of the Polish Music on Stage / US Edition, realized by the National Institute of Music and Dance and co-funded by the Polish Ministry of Culture and National Heritage as part of the Inspiring Culture program. Presented in partnership with the Polish Cultural Institute New York and USC Polish Music Center in Los Angeles.
On Sunday, November 6, Friends of Paderewski and Paderewski Patrons only are invited to a private brunch and a special program, "All You Wanted to Know About Paderewski But Were Afraid to Ask," presented at an exclusive venue in downtown Paso Robles featuring a spectacular new Steinway piano. Further details on this event will be made available to Festival Pass holders.
Ticket Details:
▪ Opening Concert (Friday, Nov. 4 | 7 p.m. wine reception, 7:30 p.m. concert)
$35 general public/ $25 seniors & students / $10 students under 18. Tickets at: www.eventbrite.com
▪ Youth Competition Winners' Recital (Saturday, Nov. 5 | 4 p.m.): Free admission, RSVP required at: www.eventbrite.com
▪ Gala Concert (Saturday, Nov. 5 | 7 p.m. wine reception, 7:30 p.m. concert)
$40 general public/ $35 seniors & students / $15 students under 18. Tickets at: www.eventbrite.com
Festival Passes:
FRIENDS OF PADEREWSKI: $250. Includes priority seating at all events, a bottle of Epoch wine with an exclusive Paderewski Festival label, 2022 Festival T-shirt, a Gift Certificate for selected downtown Paso restaurants, and a Sunday private brunch with Opolo Vineyards sparkling wine and Paderewski-related music & lecture program.
PADEREWSKI PATRONS: $500. Includes all of the above benefits, plus a Paderewski opera poster (Warsaw's Grand Theatre), Gala Artist's autographed CD, and exclusive dinner with the Gala artist on Friday night.
The Paderewski Festival's major sponsors and longtime partners include Epoch Estate Wines, Cass Winery, Park Ballroom/Acorn Management, Paso Robles Inn, Travel Paso, Tom and Kathleen Mass/Pear Valley Winery, LIBRETTO Lounge, the Consulate General of the Republic of Poland in Los Angeles, Polish Cultural Institute in New York City, Poland's National Institute of Music and Dance, Poland's Ministry of Culture and National Heritage, and the USC Polish Music Center.
For more information, please consult www.paderewskifest.com website, email paderewskifestpaso@gmail.com, or call 805.235.5409.
« Back to News