2022 Opening Night Concert with Cracow Golden Quintet
October 19, 2022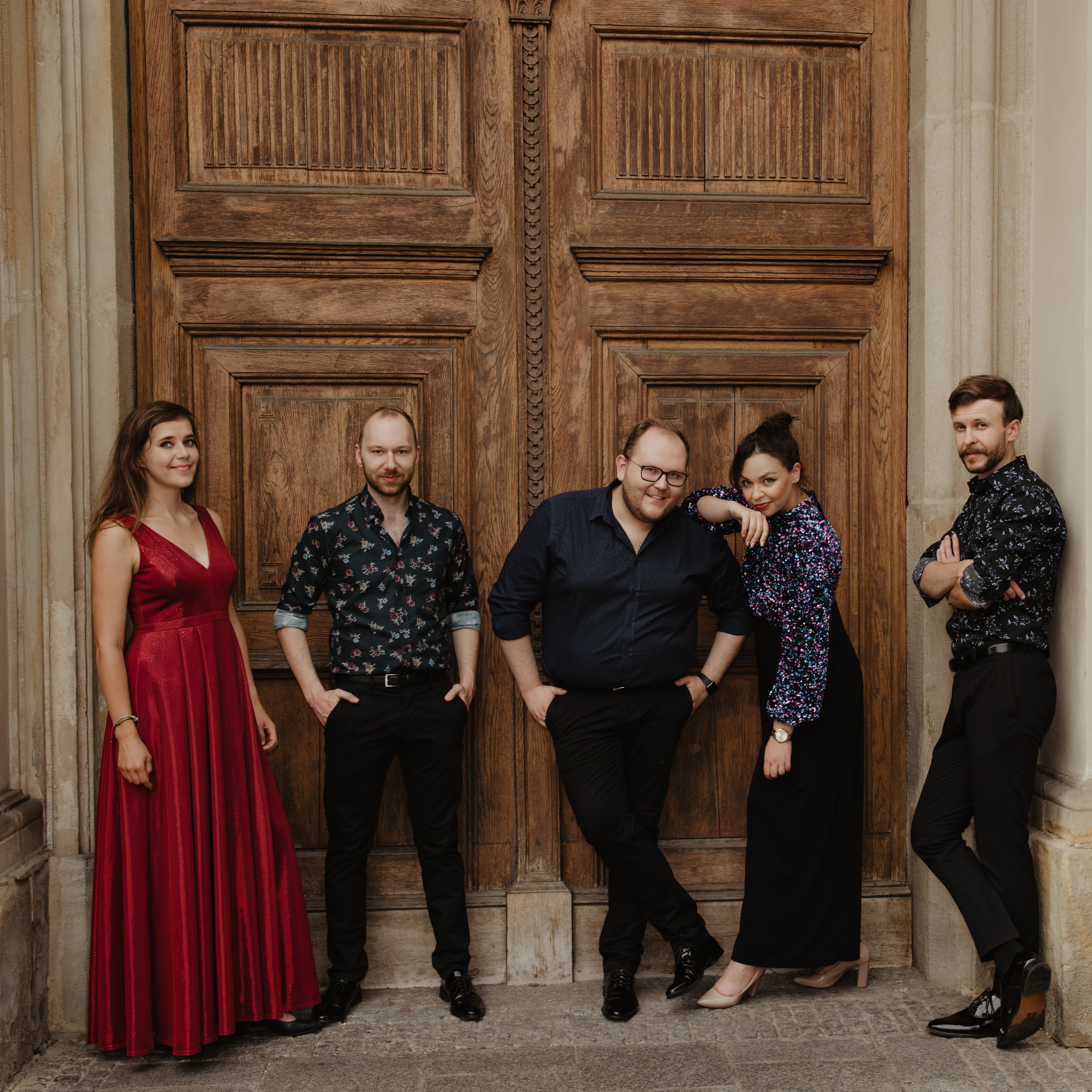 The Festival begins on Friday, November 4 at the Park Ballroom (1232 Park Street, in downtown Paso Robles) with a program of woodwind music presented by the Cracow Golden Quintet, an ensemble of exceptional young soloists who have concertized and recorded throughout Europe. A reception featuring top-rated local wines begins at 7 p.m. with the concert following at 7:30 p.m.
The Cracow Golden Quintet's program will feature three outstanding Polish neo-classical composers. Grażyna Bacewicz (1909-1969) was a virtuoso violinist, concert pianist, writer, and a prolific composer who studied in Warsaw and Paris in the 1930s thanks to a scholarship funded by Paderewski. Her 1932 Quintet for Flute, Oboe, Clarinet, Bassoon and French horn won the First Prize at a competition for women composers in Paris in 1933, and the audience in Paso will hear the Central Coast premiere of this charming work.
Tadeusz Szeligowski (1896-1963) studied composition and law in Kraków in the early 1930s, followed by extended studies composition and orchestration in Paris. Active as a teacher and music promoter, Szeligowski held professorships at Vilnius, Lublin and Poznań music academies and was one of the founders of the Poznań Spring contemporary music festival. Szeligowski's 1953 Quintet for Wind Instruments amply demonstrates the composer's lyrical gifts, great sense of humor, and a typically French style of woodwind writing.
Wojciech Kilar (1932-2013) initially studied music in Katowice and Kraków and, like Bacewicz and Szeligowski, was also a student in Paris in the early 1960s. Besides being one of the most important Polish classical music composers, Kilar wrote over one hundred very successful film soundtracks for such acclaimed directors as Andrzej Wajda, Krzysztof Zanussi and Francis Ford Coppola. Although Kilar's 1952 Woodwind Quintet is one of his earliest works, it nonetheless displays the composer's interest in folklore of the Tatra Highlands coupled with a strong rhythmic backbone and vivid musical imagination.
In their Paso Robles program the Cracow Golden Quintet will also include two of the best-known works by Ignacy Jan Paderewski: his Menuet and Légende. Written for solo piano in the late 1880s, they were transcribed for woodwind quintet by Marek Zebrowski.
Members of the Cracow Golden Quintet include Natalia Jarząbek (flute), Damian Świst (oboe), Tomasz Sowa (clarinet), Małgorzata Wygoda (bassoon) and Konrad Gołda (French horn). The Quintet's repertoire encompasses classical and popular music from the 1700s to the present. Besides works by Wolfgang Amadeus Mozart, Carl Nielsen, Jacques Ibert, Samuel Barber, and György Ligeti, the Quintet actively promotes music by Polish 20th century composers.
The Cracow Golden Quintet was recognized with the Second Prize at the Stanisław Moniuszko International Competition of Polish Music in Rzeszów (2019), First Prize at the Rome Chamber Music Festival (2016), First prize at the Madrid International Music Competition (2016), First Prize at the International Music Competition in London (2015), and First Prize at the International Davorin Jenko Competition in Belgrade (2015).
The Quintet's tours included appearances at festivals in Armenia, Finland, and Austria, as well as festivals in Kraków and Przemyśl in Poland. Other performances included such prestigious venues as Accademia di Santa Cecilia in Rome, the Penderecki European Centre for Music, the Warsaw Philharmonic, the Szymanowski Philharmonic in Kraków, the Malawski Philharmonic in Rzeszów, and Kraków's Wawel Royal Castle.
The Quintet records with Poland's DUX and Austria's ORF labels. Their 2020 DUX release of works by Polish composers was nominated for the FRYDERYK 2021 awards in the Chamber Music Album of the Year category. Currently, the Cracow Golden Quintet is preparing a Warner Music CD with music by Aleksander Dębicz and George Gershwin. Other Quintet projects include a commissioned recording from the City of Kraków to be released in late 2022.
This concert is part of the Polish Music on Stage / US Edition, realized by the National Institute of Music and Dance and co-funded by the Polish Ministry of Culture and National Heritage as part of the Inspiring Culture program. Presented in partnership with the Polish Cultural Institute New York and USC Polish Music Center in Los Angeles.
The 2022 Paderewski Festival will continue on Saturday, November 5, in the historical ballroom of the Paso Robles Inn (1103 Spring St, Paso Robles, CA 93446) with two very attractive programs. Winners of the 2022 Youth Piano Competition will be showcased in their 4 p.m. recital with the award ceremony to follow. This concert has been traditionally free and open to the public and it remains so this year.
The 2022 Paderewski Festival Gala Concert will feature virtuoso pianist Jakub Kuszlik, winner of the Paderewski and Chopin International Piano Competitions. Maestro Kuszlik's program includes works by Bacewicz, Paderewski and Chopin. The Gala Concert sponsor, Epoch Winery, will host a wine reception at 7 p.m. The concert begins at 7:30 p.m.
On Sunday, November 6, Friends of Paderewski and Paderewski Patrons only are invited to a private brunch and a special program, "All You Wanted to Know About Paderewski But Were Afraid to Ask," presented at an exclusive venue in downtown Paso Robles featuring a spectacular new Steinway piano. Further details on this event will be made available to Festival Pass holders.
Ticket Details:
▪ Opening Concert (Friday, Nov. 4 | 7 p.m. wine reception, 7:30 p.m. concert)
$35 general public/ $25 seniors & students / $10 students under 18. Tickets at: www.eventbrite.com
▪ Youth Competition Winners' Recital (Saturday, Nov. 5 | 4 p.m.): Free admission, RSVP required at: www.eventbrite.com
▪ Gala Concert (Saturday, Nov. 5 | 7 p.m. wine reception, 7:30 p.m. concert)
$40 general public/ $35 seniors & students / $15 students under 18. Tickets at: www.eventbrite.com
Festival Passes:
FRIENDS OF PADEREWSKI: $250. Includes priority seating at all events, a bottle of Epoch wine with an exclusive Paderewski Festival label, 2022 Festival T-shirt, a Gift Certificate for selected downtown Paso restaurants, and a Sunday private brunch with Opolo Vineyards sparkling wine and Paderewski-related music & lecture program.
PADEREWSKI PATRONS: $500. Includes all of the above benefits, plus a Paderewski opera poster (Warsaw's Grand Theatre), Gala Artist's autographed CD, and exclusive dinner with the Gala artist on Friday night.
The Paderewski Festival's major sponsors and longtime partners include Epoch Estate Wines, Cass Winery, Park Ballroom/Acorn Management, Paso Robles Inn, Travel Paso, Tom and Kathleen Mass/Pear Valley Winery, LIBRETTO Lounge, the Consulate General of the Republic of Poland in Los Angeles, Polish Cultural Institute New York, Poland's National Institute of Music and Dance, Poland's Ministry of Culture and National Heritage, and the USC Polish Music Center.
For more information, please consult www.paderewskifest.com website, email paderewskifestpaso@gmail.com, or call 805.235.5409.
« Back to News