THE PADEREWSKI FESTIVAL IN PASO ROBLES ANNOUNCES CULTURAL EXCHANGE PROGRAM VISIT AND CONCERTS
June 12, 2018
THE PADEREWSKI FESTIVAL IN PASO ROBLES ANNOUNCES
CULTURAL EXCHANGE PROGRAM VISIT AND CONCERTS
Paso Robles, CA – The Paderewski Festival in Paso Robles announces the Cultural Exchange Program from Poland and Ukraine visiting California and performing during the 2018 Paderewski Festival.
Based on the 2008 Cultural Cooperation Agreement signed between the cities of Paso Robles in California and Tarnów in Poland, students from California, Poland and Ukraine visit each other in alternating years. Selected winners of the Paderewski Youth Competition in Paso Robles were invited to Poland in 2009, 2011, 2013, 2015 and 2017. Together with young pianists from Poland and Ukraine, they participated in workshops, master classes and concerts at Paderewski's former manor house in Kąśna Dolna, Jagiellonian University in Kraków, and other locations throughout southern and central Poland. In turn, Polish and Ukrainian students—also competitively selected—visited California in 2010, 2012, 2014 and 2016. This unique program seeks to link three locations linked to Paderewski, from his birthplace in today's Ukraine to his former residence in southern Poland, and to his extensive presence as a rancher and pioneer of viticulture on California's Central Coast.
The 2018 Cultural Exchange Program will welcome to California four young pianists, two from Poland and two from Ukraine. They are Piotr Lara (17) and Małgorzata Machowska (18) from the Małopolska region of southern Poland, and Sofiya Dashak (18) and Bohdan Terletskyy (13) from Ukraine. They will be accompanied by a chaperone, Nadia Terletska. After arriving in Los Angeles in late October, the visitors will spend a few days with the families of Luke Kim and Antón de la Fuente, the two Californians who participated in last year's tour of the Cultural Exchange Program in Poland.
Polish and Ukrainian students will also be featured in two performances on Central Coast: on Friday, Oct. 26 at Cate School in Carpinteria and on Thursday, Nov. 1 at Cal Poly in San Luis Obispo. Additionally, these young pianists will participate in a meeting with their peers at Paso Robles High School on Wednesday, Oct. 31.
Finally, together with their Californian friends, Luke Kim and Antón de la Fuente, all six students will perform on Sunday, November 4 at the Halter Ranch concert closing the 2018 Paderewski Festival.
Admission for the 2018 Paderewski Festival ranges from free for children under 18 to $40 for premium admission, $35 for general admission, $25 for seniors over 60 and wine industry, and $5 for students 18 and over with ID. Friends of Paderewski Festival Passes with preferred seating at all events are $225.
Tickets may be purchased online at www.paderewskifest.com or by calling (805) 235-5409.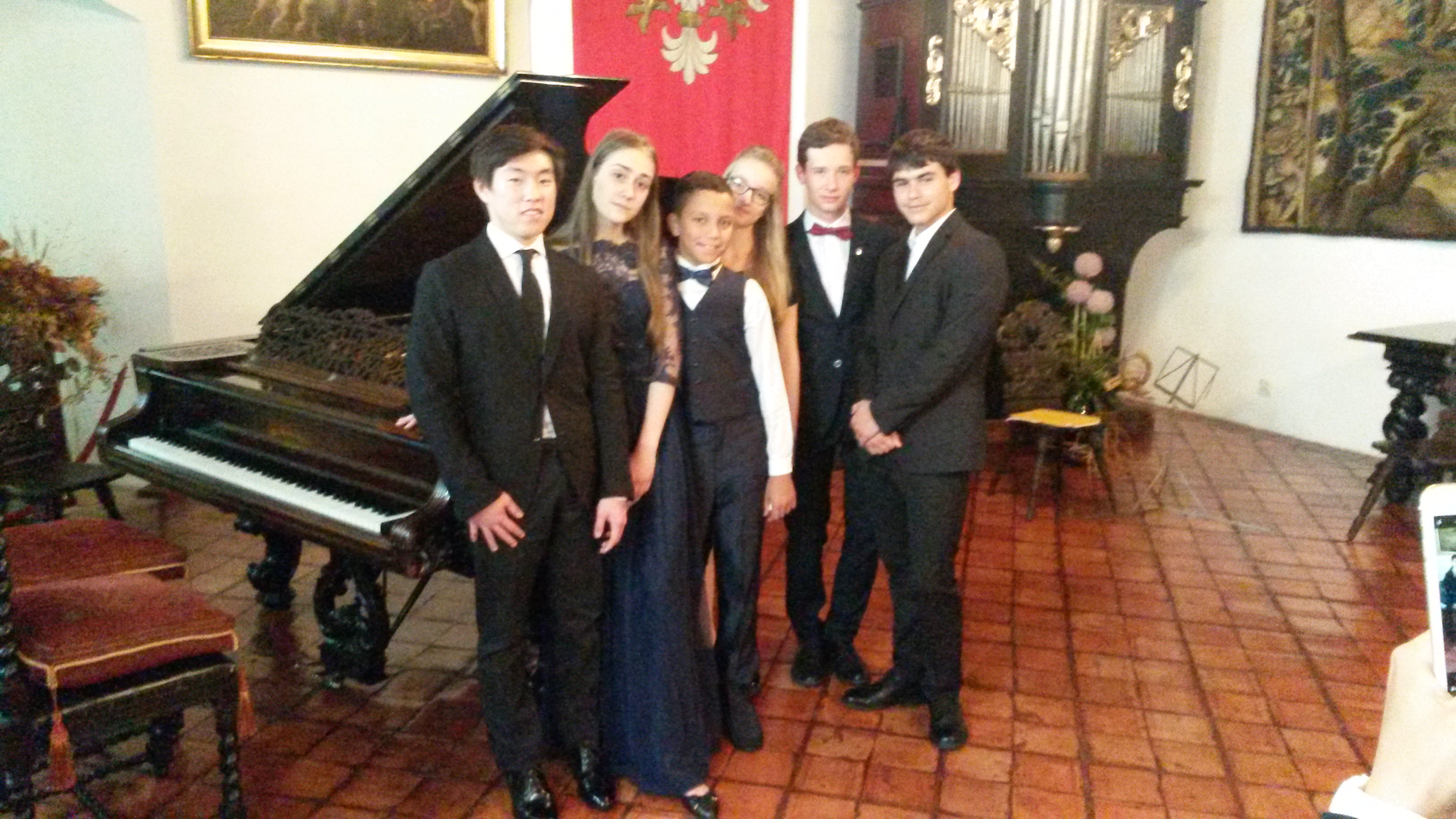 The 2018 Paderewski Festival Preliminary Schedule
Wednesday, October 31:
Cultural Exchange students from Poland and Ukraine in concert
Paso Robles High School (by invitation only, time TBD)
Thursday, November 1:
Cultural Exchange students from Poland and Ukraine in concert
Location - TBD, Free
A Conversation with Corey: Paso musician on his musical journey
Cass Winery. 6:30 PM wine reception (Cass), concert at 7 PM
Friday, November 2:
Master Class with pianist Katie Liu
Park Ballroom, Paso Robles. 11 a.m. Free
Three Paderewskis—A musical about Paderewski. Music by Jenni Brandon, Libretto by Oliver Mayer
Park Ballroom in Paso Robles. 6:30 p.m. wine reception (Adelaida), concert at 7 p.m.
Saturday, November 3:
Paderewski Festival Youth Piano Competition Winners' Recital
Paso Robles Inn Ballroom. 4 PM. Free
Paderewski Festival Gala Recital with pianist Kate Liu
6:30 p.m. reception (Epoch Estate), concert at 7:30 p.m.
Paso Robles Inn Ballroom,
Sunday, November 4:
Paderewski Patrons and Friends of Paderewski Tour, Lunch and Wine Tasting and concert by Cultural Exchange Program and California students
Halter Ranch Vineyard, 10:30-2 p.m.
« Back to News