Paso Pops
- Schedule of events for July 4, 2019 -
Live Music, Family-Friendly Activities and Fireworks!
The schedule below is from the 2019 Paso Pops. Be sure to check back to review as more details to follow soon!
4pm - Gates Open and the Festivities Begin!
4:00 - 7:30pm - Kids Activities & Carnival Rides & Games Open
Activities in the kid's area
Helm & Sons Amusements is pleased to provide Amusements & Attractions from 4pm until the fireworks begin.

Unlimited Rides Wristbands will be available in advance for $10 each, $15 on-site. Single ride tickets will sell for $3 each per ride. Carnival games will be available on a pay as you go basis ranging from $3-$5 per play.
Rides range from 48" min. to 32" min. height requirements.
All riders MUST be wearing closed toed shoes!
5:30 - 7:30pm - Paso Robles Walk-Around Wine Tasting
This exclusive walk-around wine tasting is for Speaker, Vice President and President ticket holders
Wineries pouring coming soon!
7:30-8:00pm - Table Decoration Judging
Purchased a table seat? We'd love for you to decorate it! Decorated tables will be judged & prizes will be awarded.
8:00 - 9:45pm - Show Begins with a Surprising & Dramatic Entrance of Master of Ceremonies & Emcee Casey Biggs
9:45- 10:15pm - Fireworks (estimated)
Program Includes:
Casey Biggs - Master of Ceremonies
SLO Symphony - Conductor Andrew Sewell
---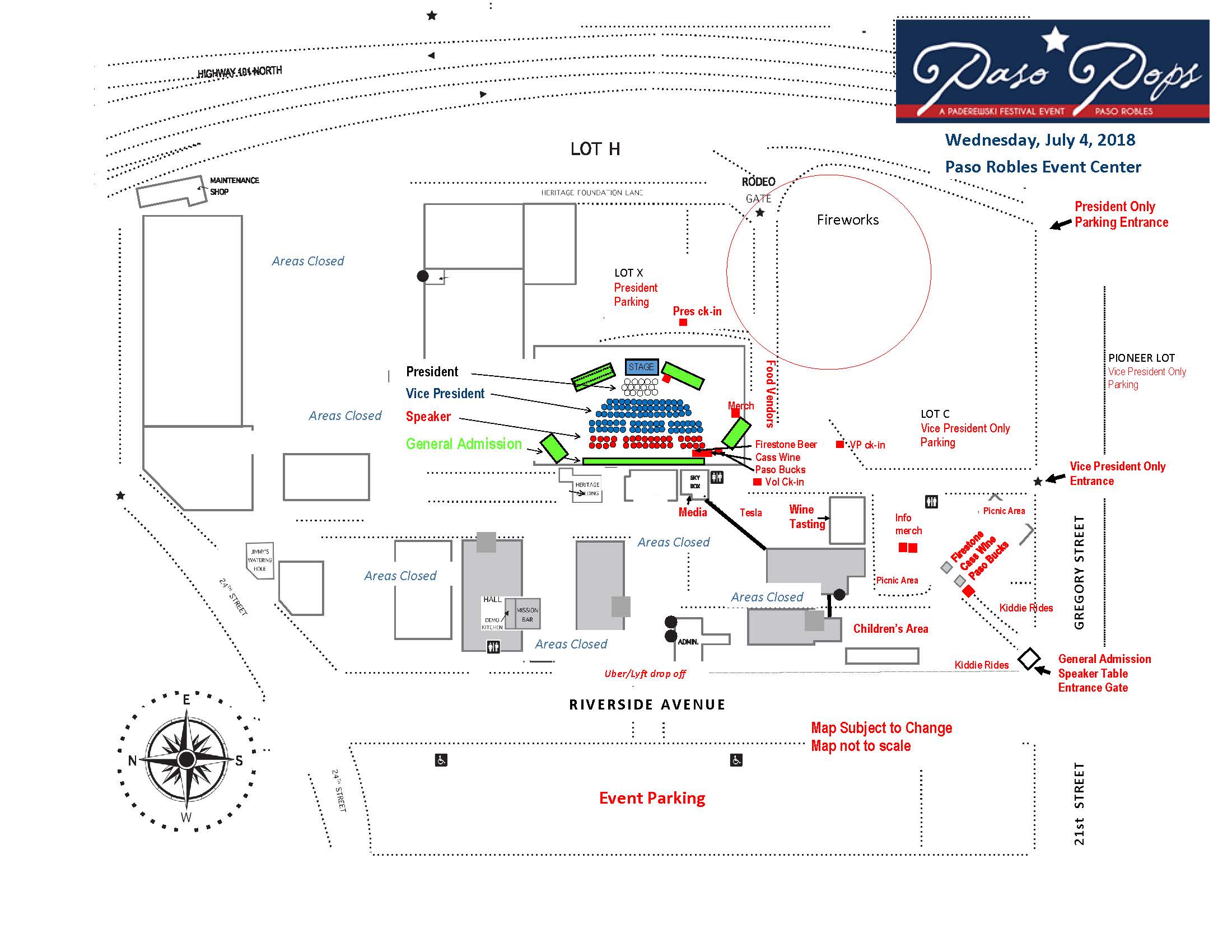 Net proceeds from Paso Pops will benefit Paderewski Festival Youth Piano Competition and the Youth Cultural Exchange Program. To sponsor Paso Pops, contact Steve Cass at steve@casswines.com or 805 239-0873. For general information regarding tickets or the event, contact Gracie Rey 805 235-5409 or pasopops@gmail.com.