Paderewski Festival in Paso Robles Announces the 2012 Concert and Event Schedule
November 8-11, 2012
FOR IMMEDIATE RELEASE
September 10, 2012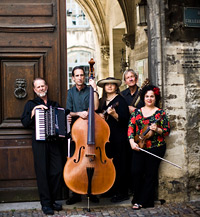 Paso Robles, CA – The 2012 Paderewski Festival celebrates the legacy of Ignacy Jan Paderewski (1860-1941) – world famous pianist, composer, statesman, humanitarian, major California Central Coast land holder, vineyard owner, winemaker and almond grower – with four days of concerts and special events featuring internationally renowned performers, young pianists from Poland and the Central Coast region, wine tasting and a special lecture by preeminent Paderewski authority. The Festival will be held in several venues throughout Paso Robles, California, from November 8 to 11, 2012. Admission ranges from free to $30 depending on the event; VIP tickets for all events are $125. Tickets may be purchased online at www.paderewskifest.com or by calling (805) 769-4622.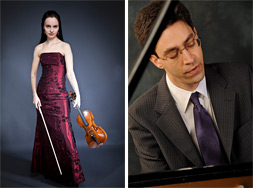 Kinga Augustyn and Efi Hackmey
The Opening Concert of the 2012 Paderewski Festival in Paso Robles will take place on Thursday, November 8 at Vina Robles Winery (3700 Mill Road) featuring Café Musique, known for their unique musical kaleidoscope of classical, swing, gypsy, folk and tango music. Hailing from the Central Coast of California, Café Musique's members are Brynn Albanese – violin and vocals, Piper Heisig – percussion and vocals, Duane Inglish – accordion, Fred Murray – bass, and Craig Nuttycombe – guitar and vocals. No host wine reception and exhibit viewing starts at 6 p.m., with music to follow at 7 p.m. Tickets are $10 per person.
Polish-born violinist Kinga Augustyn and Israeli-born pianist Efi Hackmey will give a master class for local pianists and finalists of the Paderewski Youth Piano Competition on Friday, November 9 from 2-4 p.m. at California Polytechnic University (Davidson Music Building, Room 218) in San Luis Obispo. Free admission.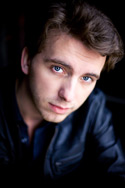 Igor Lipin'ski
Cass Winery (7350 Linne Road) will once again host the Festival's Friday evening event, this year featuring Music & Magic with Igor Lipiński, an up-and-coming concert pianist and award-winning magician from Poland. Wine reception starts at 6 p.m. with concert in the Cass Barrel Room following at 7 p.m. Tickets are $20 per person and include a glass of wine.
On Saturday, November 10 at 10 a.m., Park Cinemas will host a special sreening of the romantic tale Moonlight Sonata, a 1937 film featuring exquisite piano solos performed by Paderewski. Free admission.
Also on Saturday, November 10 at 12:30 p.m. a 790-pound bronze likeness of Ignacy Jan Paderewski rendered by artist Jessie Corsaut will be unveiled in the Paso Robles Downtown City Park in front of the historic Carnegie Library. Polish by birth and a citizen of the world, Paderewski felt at home in America and returned to Paso Robles for long visits during the years 1914-1939. This monument celebrates the legacy of Paderewski that continues in Paso Robles thanks to the annual Paderewski Festival, youth piano competition, concerts and cultural exchanges with the province of Tarnow, Poland. The general public is encouraged to join Paso Robles forefathers, civic leaders, historians and Polish dignitaries for the fanfare of its unveiling.
Winners of the 2012 Paderewski Youth Piano Competition will be featured in a recital at the historic Paso Robles Inn Ballroom (1103 Spring Street) on Saturday, November 10 at 4 p.m. Emerging talents from San Luis Obispo County will again compete with young entrants from Monterey and Santa Barbara Counties for the privilege of appearing at this year's Festival and participating in the Youth Exchange in Poland. Admission is free.
The 2012 Paderewski Festival Gala Concert will feature highly-acclaimed violinist Kinga Augustyn and her recital partner, pianist Efi Hackmey. Their all-Polish program at the Paso Robles Inn Ballroom on Saturday, November 10 at 8 p.m. will include a program of violin and piano music by Ignacy Jan Paderewski, Karol Szymanowski and Henryk Wieniawski. Epoch Estate Wines will host a wine reception at 7:30 p.m. As in the past few years, the Festival Gala Concert caps the annual Paso Robles Elegant Evening, a popular event among residents and merchants in the city's Downtown. Gala Concert general admission tickets are $25 per person, $15 for seniors, and free for students under 18.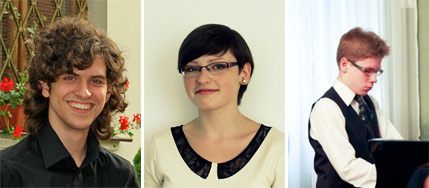 Kinga Augustyn and Efi Hackmey
The 2012 Paderewski Festival will close on Sunday, November 11 at Halter Ranch Winery (8910 Adelaida Road) with a Guest Lecture at 11:00 a.m. by Marek Zebrowski, Director of the Polish Music Center at the University of Southern California and Artistic Director of the Paderewski Festival in Paso Robles, followed by lunch and a Recital by the Exchange Program Students from Poland: Marcin Krysa (20), Ula Barnaś (17) and Robert Maciejowski (14). Tickets are $30 per person and include lunch with wine.
In addition to the above listed concerts and events, the Pioneer Museum and Carnegie Library in Paso Robles will have ongoing exhibits and displays of Paderewski memorabilia for Festival goers to enjoy.
The Paderewski Festival in Paso Robles is a non-profit organization that sponsors an annual series of concerts featuring internationally acclaimed artists, the Paderewski Youth Piano Competition and Exchange Program. For further information and schedule of 2012 Paderewski Festival events, please see the Festival's website, www.paderewskifest.com.
Paderewski and the Paderewski Festival In Paso Robles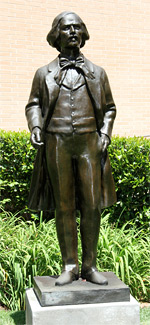 Ignacy Jan Paderewski (1860-1941) was a virtuoso pianist, composer, statesman, humanitarian and orator. Although his bold political vision for a multi-ethnic and multi-cultural United States of Poland was never realized, his musical legacy continues to inspire generations of musicians all around the globe.
Paso Robles is proud of its most famous resident, Ignacy Jan Paderewski, who visited this Central California city on many occasions for 25 years between 1914 and 1939. He stayed in the El Paso Hotel (now the Paso Robles Inn) and took cures in Paso Robles' hot springs. He eventually bought nearly 3,000 acres of farmland in Paso Robles, Rancho San Ignacio and Rancho Santa Helena, where he planted wine grapes, almonds and a variety of fruit trees. In addition to his musical and political accomplishments, he also is remembered as a pioneer of vine cultivation and credited with bringing Zinfandel wine grapes to California.
To commemorate Paderewski's association with Paso Robles, the Paderewski Festival was launched in 1991. The festival was suspended temporarily from 2001 to 2006, when it was re-launched under the leadership of the Polish Music Center at the University of Southern California's Thornton School of Music and Paso Roblans led by Steve Cass of Cass Winery and Joel Peterson, grandson of the Paderewski Festival's founder, Virginia Peterson.
A sister city agreement between Tarnów, Poland and Paso Robles, California, was signed in 2008 with the goal of establishing cultural, educational, personal and commercial exchanges between the two cities that share historical ties to Ignacy Jan Paderewski. The first such exchange program was held in June 2009, when three young pianists from California's Central Coast-finalists from the 2007 and 2008 Paderewski Youth Piano Competitions in Paso Robles-participated in a series of piano workshops and master classes alongside three Polish students. The program was held at the manor house of Paderewski's former estate, Kąśna Dolna, in the province of Tarnów. American and Polish students performed jointly in concerts in K??na Dolna and at the Jagiellonian University in Kraków.. Wines from Paso Robles were featured in tastings during receptions following each of the youth concerts. The first group of young Polish pianists came to perform in Paso Robles in 2010. In 2011, three U.S. students again went to Poland, and this November festival audiences will have a chance to hear performances by another group of talented youth from Poland.
# # #
For more information on the 2012 Paderewski Festival in Paso Robles,
please visit the Festival's website: www.paderewskifest.com