Paderewski Festival Fall Fundraiser "Sunset at the Ridings"
FOR IMMEDIATE RELEASE
August 15, 2012
The Board of Directors of the Paderewski Festival in Paso Robles Announce
PADEREWSKI FESTIVAL FALL FUNDRAISER
SUNSET AT THE RIDINGS
Sunday, September 23, 2012
4-7 p.m.
Tickets: $75 per person
Proceeds to benefit the 2012 Paderewski Festival in Paso Robles
Tickets and Information at: www.paderewskifest.com or call (805) 237-7575x201
* * *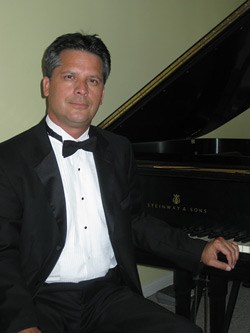 The 2012 Paderewski Festival Fall Fundraiser, September 23, 4-7 p.m., will marry unparalleled views and a glorious sunset as seen from the spectacular residence of Marilyn and Ken Riding in the Adelaida hills on Paso Robles' Westside with a brilliant concert with Dr. Lorenzo Sánchez featuring music by Paderewski and Chopin. Splendid wines, including Cass Sparkling, Treana White and Epoch 2009 Estate Blend will be paired with delicious hors d'oeuvres by Chef Kelly Wangard of Summerwood Inn & Winery. Six peerless auction lots, including a private tour of the Paderewski Vineyard coupled with wine tasting and overnight stay at Belvino Viaggio, and collections of difficult-to-secure magnums of notable local wines, will round out the fundraiser. Seating is limited.
Tickets are $75 per person and may be purchased online at www.paderewskifest.com or by contacting Kristen Carillo at Epoch Estates at 805-237-7575x201. All proceeds from the event will benefit the 2012 Paderewski Festival in Paso Robles.
The centerpiece of Sánchez's program will be Paderewski's monumental Piano Sonata in E-flat minor, Op. 21. Published in 1903, it is one of Paderewski's last compositions and considered a pianistically challenging and brilliant work. A few more intimate pieces by Frederic Chopin will round off the program.
A 1992 University of Southern California Thornton School of Music graduate with a doctorate in piano performance, Sánchez has performed throughout the United States, Mexico and Italy. He is keenly interested in premiering new works and has appeared in concerts featuring music by such African-American composers as William Grant Still and George Walker. He has performed solo, vocal and chamber concerts of music by Mexican composers and has edited, published and recorded music by Domingo Lobato. Sánchez has also appeared as soloist and lecturer during the Paderewski Festival events in the 1990s.
The Paderewski Festival in Paso Robles is a non-profit organization that sponsors an annual series of concerts featuring internationally acclaimed artists, the Paderewski Youth Piano Competition and Exchange Program. The 2012 Paderewski Festival will be held from November 8-11. Highlights of this year's festival will include the unveiling of a statue of Ignacy Jan Paderewski in the Paso Robles City Park, concerts by internationally acclaimed artists, a recital of Paderewski Youth Piano Competition winners, and the Gala Concert at the historic Paso Robles Inn Ballroom.
Also this year, the Paderewski Festival in Paso Robles will host three young pianists from Poland participating in the Festival's cultural exchange program. Initiated in 2008, the program has created study and performance opportunities for young California Central Coast pianists in Paderewski's former manor house in Kąśna Dolna and at the Jagiellonian University in Kraków, Poland, during 2009 and 2011. The first group of young Polish pianists came to perform in Paso Robles in 2010, and this November festival audiences will have a chance to hear performances by another group of talented youth from Poland.
For further information and schedule of 2012 Paderewski Festival events, please see the festival's website, www.paderewskifest.com.