Paso Robles' Paderewski Festival Founders Awarded Highest Honors By Republic Of Poland
Press Release - November 21, 2011
FOR IMMEDIATE RELEASE
Paso Robles, CA – The 2011 Paderewski Festival (www.paderewskifest.com) once again celebrated the legacy of Ignacy Jan Paderewski with four days of sold out concerts, and special events featuring internationally renowned performers, young pianists the California Central Coast Region, wine tasting and a special Paderewski lecture. The Festival was held in and around Paso Robles, California from November 10-13, 2011.
A highlight of this year's festival was provided prior to the Gala Concert by the Consul General of the Republic of Poland in Los Angeles Joanna Kozińska-Frybes who surprised Paderewski (Reprise) Festival founders — Paderewski Festival President Joel Peterson, Paderewski Festival Treasurer Steve Cass, former Paso Robles Mayor and San Luis Obispo County Supervisor Frank Mecham, and Paderewski Festival Artistic Director Marek Zebrowski — with gold and silver Crosses of Merit for outstanding service in the field of Polish-American relations, widely spreading knowledge about Poland and popularizing Polish culture. Signed by the President of the Republic of Poland Bronisław Komorowski, it is one of the highest civilian awards in Poland honoring exemplary public service that goes above and beyond the call of duty.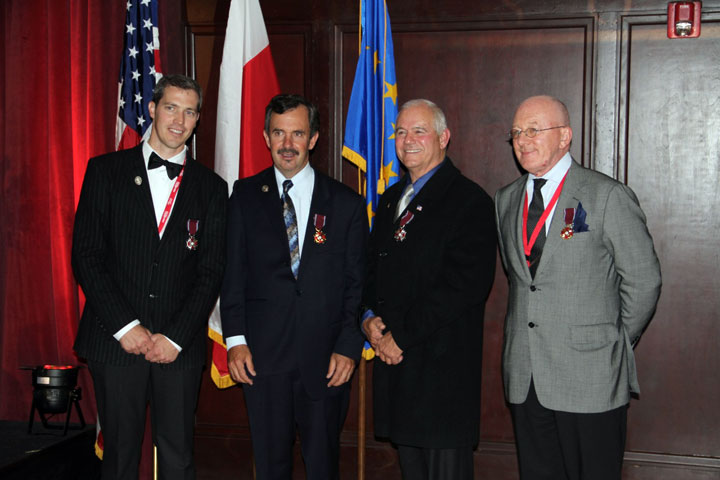 Paderewski And The Paso Robles Paderewski Festival
Ignacy Jan Paderewski (1860-1941) is arguably Paso Robles' most famous resident and the city is proud of the virtuoso pianist, composer, statesman, humanitarian and orator, who visited this Central California city on many occasions for 25 years between 1914 and 1939. Although his bold political vision for a multi-ethnic and multi-cultural United States of Poland was never realized, his musical legacy continues to inspire generations of musicians all around the globe. He stayed in the El Paso Hotel (now the Paso Robles Inn) and took cures in Paso Robles' hot springs. He eventually bought nearly 3,000 acres of farmland in Paso Robles, Rancho San Ignacio and Rancho Santa Helena, where he planted wine grapes, almonds and a variety of fruit trees. In addition to his musical and political accomplishments, he also is remembered as a pioneer of vine cultivation and credited with bringing Paso Robles Zinfandel wine to the attention of wine lovers.
To commemorate Paderewski's association with Paso Robles, the Paderewski Festival was launched in 1991. The festival was suspended temporarily from 2001 to 2006, when it was re-launched as the Paderewski (Reprise) Festival under the leadership of the Polish Music Center at the University of Southern California's Thornton School of Music and Paso Roblans led by Steve Cass of Cass Winery and Joel Peterson, grandson of the original Paderewski Festival's founder Virginia Peterson.
A sister city agreement between Tarnów, Poland and Paso Robles, California, was signed in 2008 with the goal of establishing cultural, educational, personal and commercial exchanges between the two cities that share historical ties to Ignacy Jan Paderewski. The first such exchange program was held in June 2009, when three young pianists from California's Central Coast (finalists from the 2007 and 2008 Paderewski Youth Piano Competitions in Paso Robles) participated in a series of piano workshops and master classes alongside three Polish students. The program was held at the manor house of Paderewski's former estate, Kąśna Dolna, in the province of Tarnów. American and Polish students performed jointly in concerts in Kąśna Dolna and at the Jagiellonian University in Kraków. Wines from Paso Robles were featured in tastings during receptions following each of the youth concerts. Since then, cultural ties between the two countries have continued to mature. In November 2010, two young Polish piano students traveled to California and participated in that year's Paderewski Festival with sightseeing that not only included California's scenic Central Coast but also stops in Los Angeles and Disneyland, and in 2011 three California Central Coast students plus an official delegation from Paso Robles again visited Poland, this time performing and studying alongside piano students from the Tarnów region of Poland and the Zhytomyr region of the Ukraine, three areas that share historical ties to the personal life of Ignacy Jan Paderewski.