The Board of Directors of the Paderewski Festival in Paso Robles Announce "A Toast To Paderewski"
The Board of Directors of the Paderewski Festival in Paso Robles Announce "A Toast To Paderewski"
Press Release - March 8, 2011
FOR IMMEDIATE RELEASE
Paso Robles, CA -- Come raise a toast to Paderewski with Rhone Rangers wines, Polish-themed delicacies, silent auction, and a very special concert of music for violin and piano on Saturday, April 16 at Pear Valley Winery in Paso Robles.
The Paderewski Festival and the Rhone Rangers Association of winemakers in Paso Robles invite lovers of fine wine and romantic music to a reception showcasing the wines of Rhone Rangers wineries, complemented by Polish and Latin-themed appetizers provided by Cass Catering. The reception will be followed by a concert of all-time favorite Polish virtuoso classics, as well as popular music from Argentina and Brazil. Compositions by Frederic Chopin, Ignacy Jan Paderewski, Henryk Wieniawski and Krzesimir Dębski, as well as brilliant works by Pablo de Sarasate, George Gershwin and Astor Piazzolla, among others, will be featured on the program. A live auction of unique lifestyle packages from Paso Robles Wine Country will round out the evening. Proceeds from the event will benefit the Paderewski Festival Exchange Program for young musicians; this summer three U.S. students will be given the rare opportunity to travel to Poland for master classes, to perform concerts, and take in the local sights and culture.
The performers, violinist Jerzy Milewski and his wife, pianist Aleida Schweitzer, met studying music in Poland and, since the early 1970s, have resided in Ms. Schweitzer's native Brazil. Jerzy Milewski studied violin at the Warsaw Academy of Music and performed with Poland's National Philharmonic Chamber Orchestra in major concert halls of Europe, North and South America and Asia. Recipient of the coveted Wieniawski Medal from the Polish government, Maestro Milewski has been featured on a number of CD recordings with such legendary artists as Luiz Eça, Paulo Moura, Sivuca, Rildo Hora, Altamino Carrilho, Robertinho Silva, Rafael Rabello, and Francis Hime. He is one of the most famous musicians in Brazil and is universally considered the greatest living spokesman for Brazilian musical culture at home and abroad.
Aleida Schweitzer studied piano, chamber music and composition in Brazil, the Netherlands and Poland. A pianist and choral conductor, she was given the title of "West Virginia's Ambassador of Music Among All People," by governor John Rockefeller IV and received the "Medal of Merit to the Polish Culture" from the Polish Government. Madame Schweitzer performed with such world-class artists as Jean-Pierre Rampal, Christine Walewska, Boris Pergamenshikov, and Daniel Heifetz, and recorded Bach's Keyboard Concertos with the Amadeus Orchestra in Poland. Together with her husband she is featured on over twenty CD albums, recorded in Europe and South America.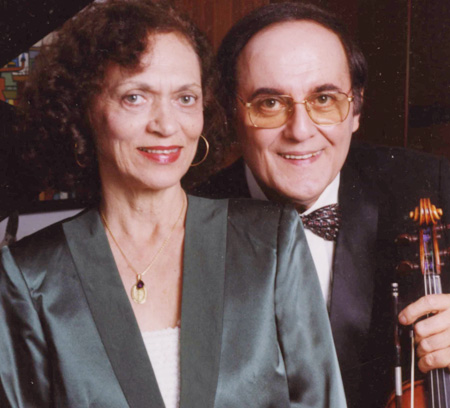 Proceeds from the April 16 event will benefit the Paderewski Festival Exchange Program for young musicians. The cities of Paso Robles and Tarnów, Poland signed an agreement in November 2008 to explore cultural, educational and business opportunities between the two places that share historical ties to Ignacy Jan Paderewski. In June 2011 three U.S. finalists of the Paderewski Youth Piano Competition in Paso Robles will travel to Poland to perform and participate in master classes alongside Polish students. They will study music at Paderewski's former estate in Kąśna Dolna near Tarnów. Costs of this exchange program are shared between the Paderewski Festival in Paso Robles and the City and Province of Tarnów, Poland. This year's exchange program builds up on the first visit of young Central Coast musicians in Poland in 2009 and the 2010 visit of young Polish musicians in Paso Robles.
Admission for the Toast to Paderewski is $75 per person, including unlimited wine tasting; $25 for youth under 21. Tickets may be purchased online, at any participating Rhone Rangers winery, or by calling 805-239-0873.
The 46 members of the Paso Robles Chapter of the Rhone Rangers are dedicated to the education about and the promotion of Rhone varietals and Rhone blends, and of Paso Robles as a top California region in the production of outstanding Rhone varietal grapes and wines. More information about the Paso Robles Rhone Rangers and a list of their member wineries is available at www.rhonerangers.org/about/pasorobles.php.
The Paderewski Festival in Paso Robles is a non-profit organization that sponsors an annual series of concerts featuring internationally acclaimed artists, the Paderewski Youth Piano Competition and Exchange Program, and other Paderewski-themed events.
The 2011 Paderewski Festival will be held in a number of venues in Paso Robles and vicinity from November 10-13 and will mark the twentieth anniversary of the Festival. Concerts of solo piano and chamber music, an exhibit of Paderewski's memorabilia, celebrations of local young musicians and lectures by experts are planned in celebration.