Pianist Hubert Rutkowski Featured in Gala Concert
October 1, 2009
FOR IMMEDIATE RELEASE
The 2009 Paderewski Festival in Paso Robles is pleased to announce that the Gala Concert concluding the Festival will take place on Saturday, 14 November 2009 at 8 p.m. at the historical Ballroom of the Paso Robles Inn, 1103 Spring Street, Paso Robles, California. The internationally renowned, Polish-born pianist Hubert Rutkowski will be the featured soloist.
For his Paso Robles performance, Hubert Rutkowski has chosen an exciting program of late Romantic piano rarities.
His recital will begin with the well-known group of Chopin's warhorses, the "Military" Polonaise Op. 40, Four Mazurkas, Op. 68, and the Fantaisie-Impromptu Op. 66—works that have been closely associated with Chopin's friend and pupil, Julian Fontana (1810-1869). Fascinating and—until recently'totally unknown compositions by Fontana will follow the Chopin segment. Fontana actually introduced Chopin's music to the island of Cuba in the late 1840s, when he concertized there and assumed the post of music director of Havana's Music Society. After Chopin's death, Fontana returned to Paris to edit, preserve and publish many of his friend's compositions, thus assuring their survival in the piano literature.
Other exciting items on Mr. Rutkowski's program are two virtuoso piano compositions by the new Orleans-born Louis Moreau Gottschalk (1829-1869). He was the first American virtuoso who—as child prodigy—traveled to Paris, met Chopin, Liszt and Fontana, and conquered Europe with his brilliant piano playing and his captivating piano music based on Creole folklore of the South.
The second half of the concert will open with several piano compositions by Ignacy Jan Paderewski (1860-1941) and will be followed by a selection of charming piano miniatures by Paderewski's famous piano teacher and a fellow Pole, Teodor Leschetizky (1830-1915). "If I became a pianist, I owe it to him" was how Paderewski summed up his intensive period of studies with Leschetizky in Vienna that led to Paderewski's triumphant debut in Paris in 1888. Leschetizky was a master piano pedagogue, who in the course of his career taught well over a thousand pianists, including such legends as Ignacy Friedman, Artur Schnabel, Mieczysław Horszowski, Benno Moiseiwitsch, Ossip Gabrilowitch, Alexander Brailowsky, and Paul Wittgenstein. Leschetizky's compositions were quite popular and he was on friendly terms with Johannes Brahms who, like Leschetizky, liked to spend his summers in the Alpine resort town of Bad Ischl. Today Leschetizky's music is rarely heard on the concert stages but—as part of this Festival—it makes perfect sense as a programming choice for its personal connection to Paderewski and the interesting light that it sheds on the tradition that this great Polish pianist and composer embodied.
For more information on the event, click here.
Pianist Hubert Rutkowski
Pianist Hubert Rutkowski was born in 1981 and graduated with distinction from the Chopin Academy of Music in Warsaw in 2005. Since then he has divided his time between Poland and Germany, where he is attending master classes of Professor Evgeni Koroliov at the Hochschule für Musik und Theater in Hamburg. Mr. Rutkowski is also working on his doctoral thesis at the Chopin University of Music in Warsaw.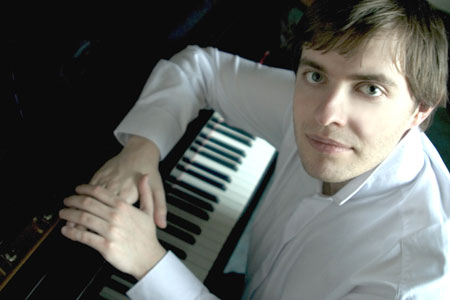 Hubert Rutkowski is a prizewinner in several international piano competitions. He received the First Prize at the Chopin Competition in Hanover (2007), the Second Prize at the Elise Meyer Competition in Hamburg (2006), a finalist at the Maria Canals Piano Competition in Barcelona (2006), the First Prize winner at the Piano Festival in Warsaw (2000), and the Third Prize winner at the Chopin Competition in Vilnius (1999).
Mr. Rutkowski performed as a soloist and with orchestras, appearing in concerts in Poland, Germany, Lithuania, Italy, Spain, Japan, United States, Cuba, and Cyprus. In the summer of 2004, he performed with the Orchestra Sinfonica Giovanile Internazionale under the baton of Tomasz Bugaj during the Catania Summer Music Festival in Sicily. Over the past several years, Hubert Rutkowski has made archival recordings for the German radio broadcasts, including the SüdWest-Rundfunk and the NDR Rundfunk.
Mr. Rutkowski's repertoire interests concentrate on the unknown compositions by pupils of Frederic Chopin and lesser-known pianists-composers of the late Romantic era. His discography so far includes two CDs recorded for the Acte Préalable label—the Julian Fontana disc (2007) and the Teodor Leschetizky disc (2008), which elicited high praise from the Gramophone Magazine in June 2009. This summer and fall Mr. Rutkowski is recording works by Tellefsen, Mikuli, Filtsch, and Gutman for the NAXOS label. During the summer of 2009 Mr. Rutkowski performed at the prestigious Husum Piano Festival in Germany and conducted master classes in Poland. Hubert Rutkowski is a founder and President of the Theodor Leschetizky Music Society in Warsaw.
During 2010, the Chopin anniversary year, Hubert Rutkowski will return to perform at the Schleswig-Holstein Musik Festival in Germany and make his debut in Paris, performing piano concertos by Chopin's pupils with the orchestra of Conservatoire National de Région de Paris under Xaver Delette.