Denali String Quartet To Open The 2009 Paderewski Festival
October 1, 2009
FOR IMMEDIATE RELEASE
The 2009 Paderewski Festival in Paso Robles is pleased to announce that the opening concert of this year's Festival will be held on Thursday, 12 November 2009 at 7 p.m. at Vina Robles Winery, 3700 Mill Road, Paso Robles, California. The featured performers are the Los Angeles-based Denali String Quartet, who will present a program of works by Heitor Villa-Lobos, Henryk Mikołaj Górecki, and Johannes Brahms.
Denali Quartet members Sarah Thornblade, Joel Pargman, Alma Fernandez, and Timothy Loo have been featured year-round as artists-in-residence of Santa Monica's Jacaranda Concert Series, hailed by Alan Rich of the LA Weekly as "the right music in the right place at the right time," since its inaugural 2003 season.
For their Paso Robles concert, the Quartet will perform String Quartet No. 5, "Quarteto popular" by Heitor Villa-Lobos (1887-1959), String Quartet No. 1, "Already It Is Dusk," Op. 62, by Henryk Mikołaj Górecki (b. 1933), and the String Quartet in A minor, Op. 51 No. 2 by Johannes Brahms (1833-1897). This exciting program will take the Festival audience on a musical journey from Europe to South America.
For more information on the event, click here.
The Denali String Quartet
The Denali String Quartet was founded in 1999 by cellist Timothy Loo, while he was a graduate student at the USC's Thornton School of Music. The following year the quartet performed at the Fairbanks Summer Arts Festival and acquired its official name from the Inuit word for Mount McKinley, North America's highest peak. Violinists Sarah Thornblade and Joel Pargman joined Denali in 2002. Soon thereafter Professor Byron Adams, Dean of UC Riverside's School of Music, selected the Denali Quartet to give a concert of Mexican composer Silvestre Revueltas's quartet cycle as the central event of UC Riverside's "Life and Music of Silvestre Revueltas" symposium, for which the quartet received a UC MEXUS grant. The addition of violist Alma Fernandez shortly thereafter brought the quartet to its current configuration.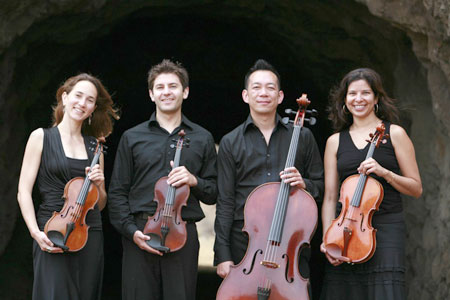 Opening the 2004-05 Season was a critically acclaimed program celebrating pioneering American composers. Mark Swed of the Los Angeles Times praised Sarah Thornblade's "rapturously winning approach" to Terry Riley's Cantos Desiertos, and also her collaboration with "commanding young cellist" Timothy Loo in a "fervent performance" of Ives' Piano Trio. Mr Swed also highlighted "violinist to remember" Joel Pargman's performance "with firm authority" of Lou Harrison's Concerto for Violin and Percussion Orchestra.
In the upcoming concert season Denali is scheduled to perform over seventeen concerts in the Greater Los Angeles area, including works by Pavel Haas, Thomas Adès, Erich Korngold, Heitor Villa-Lobos, Leoš Janáček, Johannes Brahms, Ben Johnston, John Adams, Henryk Mikołaj Górecki, and Osvaldo Golijov. More information on the Denali String Quartet can be found on their Web site.
The Music
Heitor Villa-Lobos, hailed as the most significant figure in the history of Latin American music, was a prolific composer of symphonies, concertos and other orchestral works as well as a huge body of chamber works. His compositional style successfully fuses Brazilian folk music traditions as well as French impressionist and colorist traditions of early 20th century. Villa Lobos' "Quarteto popular" was written in 1931.
Henryk Mikołaj Górecki is a Polish composer, whose contemplative and deeply spiritual Symphony No. 3—Symphony of Sorrowful Songs—took the worlds of classical and popular music by the storm in the early 1990s. For two years, the recording of this Symphony remained on top of all musical charts with millions of copies sold worldwide. Górecki's first String Quartet, commissioned by the celebrated Kronos String Quartet, was given its world premiere in Minneapolis in 1989.
The Denali Quartet will close its Paso Robles concert with the dark and passionate String Quartet Op. 51 by Johannes Brahms. Music by this celebrated German composer of the Romantic era is a mainstay of current concert repertoire, with his grandiose symphonic works and beautifully intimate chamber music often taking the pride of place.