Polish Dignitary Visits Paso Robles
Paso Robles Press - August 11, 2009
By Josh Petray
The city of Paso Robles received an honorary visit from His Excellency Mr. Radosław Sikorski, Minister of Foreign Affairs of the Republic of Poland, on Thursday as part of a cultural exchange effort to learn more about Paso Robles, Poland, the Paderewski Festival and what connects them.
Sikorski was welcomed by a small and intimate gathering of Paso Robles and San Luis Obispo County officials, Paso Robles winemakers, winery owners and other dignitaries including the Consul General of the Republic of Poland in Los Angeles, Paulina Kapucinska, who gathered for a reception, concert by world-renowned pianist Marek Zebrowski, composer and director of the Polish Music Center at the University of Southern California Thornton School of Music, followed by dinner complemented by Paso Robles wines.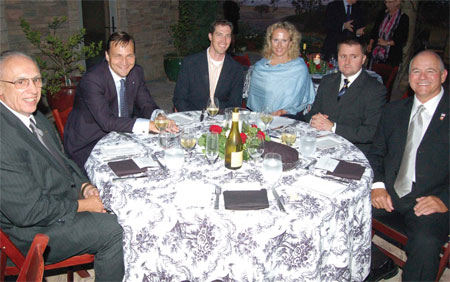 Sikorski, Poland's Foreign Minister since 2007 and described as a "leading political figure in Polish, European and transatlantic affairs," was a member of the solidarity social movement, political refugee, award-winning photojournalist, well-respected and is widely regarded politician in Poland, a position described as the equivelent of the United States' the Secretary of State.
Sikorski said he was delighted that the local Paderewski Society had traveled to Poland. He described Paderewski as "one of the fathers of our independence after World War I and my predecessor as foreign minister" and a "very significant historical figure for us."
"He's not just a world renowned pianist but also a statesman, and we know that he loved this part of the United States," he said.
Sikorski said Poland is currently home to noted music schools and birthplace of Chopin. The country will celebrate the 200th anniversary of Chopin's birth in 2010, an event he said he is looking forward to. Sikorski said he would likely be unable to attend this year's Paderewski Festival but would be eagerly represented by the Polish consulate.
Poland is an ally of the United States with a consulate in Los Angeles with an honorary consulate based in San Francisco. On Wednesday, Sikorski spoke at the World Affairs Council of Northern California, an organization that "offers a forum where diverse audiences engage in critical issues that inform their actions," based in San Francisco. Sikorski spoke on "The New Poland in a new Europe."
Sikorski said Poland has been recently ranked the 22nd largest economy in the world.
"The Polish communities in Los Angeles and San Francisco seem to be thriving," he said. "Poland is doing well in the current downturn. We are the only country that's not in a recession right now. We seem to have pursued prudent policies without any of those wacky banking schemes, so we haven't had any banking failures, and our economy seems to stay competitive."
Sikorski said that while in California he was delighted to present high declarations to the director of the Hoover Library and Bob Conquest, a major scholar of Soviet affairs who contributed to the free world's victory in the Cold War. He decorated them in the name of its president with the order of marriage of the Republic of Poland. Sikorski said that besides government affairs, he was visiting California to visit his wife, Radek, a Washington Times columnist who lives in the Napa Valley. When asked, he said the area where Poland and the United States could collaborate most is in spreading democracy.
"Poland is a country that is known to have fought for freedom and to have made good use of it," he said, "We have made a success of our rebuilt liberty after 1989. In America, a country that has always promoted democracy around the world, I think we could help each other in that way."
Sikorski said he saw former Secretary of State Condoleezza Rice earlier that morning and spoke about construction of a military defense base in Poland, a project that's been in limbo since the election of President Barack Obama. Sikorski could not confirm whether the project would move forward but said it would be a decision that rests with the current administration.
"The U.S. wants to build a similar base in Poland, trouble is, we don't know anymore whether they want to do it or not," he said.
Sikorski signed an agreement last year with Rice about building such a base.
"I saw her this morning, and she seems to think it's still a good idea," he said.
When asked about Paso Robles wines and future business opportunities with Poland, Sikorski cited the country's lack of wine production coupled with the allure of new wine regions as reasons to think positively about the future of Paso Robles wines in Poland.
"There is always synergy because we are too cold of a county to produce wine," he said. "We import all of it, and California wines are a huge success in Europe in general and Poland in particular. So there is always a taste, so to speak, for discovering new regions, and I'm sure you [Paso Robles] can take advantage of it."
For those in attendance, the gathering was a chance to come together and share commonalities between the area Paderewski once called home and the distant country of his origin. Though separated by thousands of miles, many of those in attendance, such as First District Supervisor Frank Mecham, noted the similarities between the cultures.
"There are so many parallels between our countries that it's very easy to talk to them and very easy to engage where we can become better partners in a lot of ways," he said.
Mecham was among local dignitaries seated at the table with Sikorski. He, along with several fellow board members, returned about three weeks ago from an ambassadorial cultural exchange trip to Poland, where they met with Polish dignitaries and toured Paderewski's hometown. Vintners from Paso Robles have subsequently introduced wines to Poland.
Mecham was the first to sit down with Kapucinska and discuss the possibility of developing business and cultural ties between the two cities. Kapucinksa spoke during a past seminar hosted by Congressman Kevin McCarthy, R- Bakersfield, held at the Paso Robles Inn Ballroom in 2008 and has collaborated with city officials on a sister city agreement as well as attending several city functions.
"It's an honor to have them here and a thrill to be here tonight," Mecham said of the special visit. "It's a wonderful opportunity for our whole area. Who knows where it's going to go from here."
Zebrowski, who described Sikorski as now the most popular politician in Poland, said it was an honor to perform before the Polish dignitaries and local audience.
Zebrowski said musicians often times "go begging from pillar to post begging for venues" and looking for organizations to sponsor events. The festival and city provide a venue for many artists who might otherwise go unrecognized.
"When I started coming to Paso, everybody that I met said, 'Yes, we want music, we love music,'" he said. "That an exceptional vibe in the community that I encounter and something of course that is really rare."
Host Stephen Cass, owner of Cass Vineyard & Winery, said he was excited about the 2009 Paderewski Festival Youth Competition and its new tri-counties focus, drawing crowds from as far north as Monterey to as far south as Santa Barbara County.
"We're excited about this first step just to take it outside of the county," he said. "One of the things that excites most of us on the board about making this a successful event isn't just the musical event that happens in fall, but the competition part of it. If you're a great athlete, you get recognized because you're on the all-star team or you get a scholarship to college, and good things happen. If you are a great academic person, same thing, you get on the honor roll, and you get recognized for great academic achievement and will get a scholarship to go to college. If you are a great musical student, there are not quite as many recognition opportunities for you. So by us having the competition, it gives them something to put on their resume because you don't have to be in a rock band to have a successful career in music."