Special Events
Cracow Duo - A Benefit Concert*
Saturday, March 19, 2022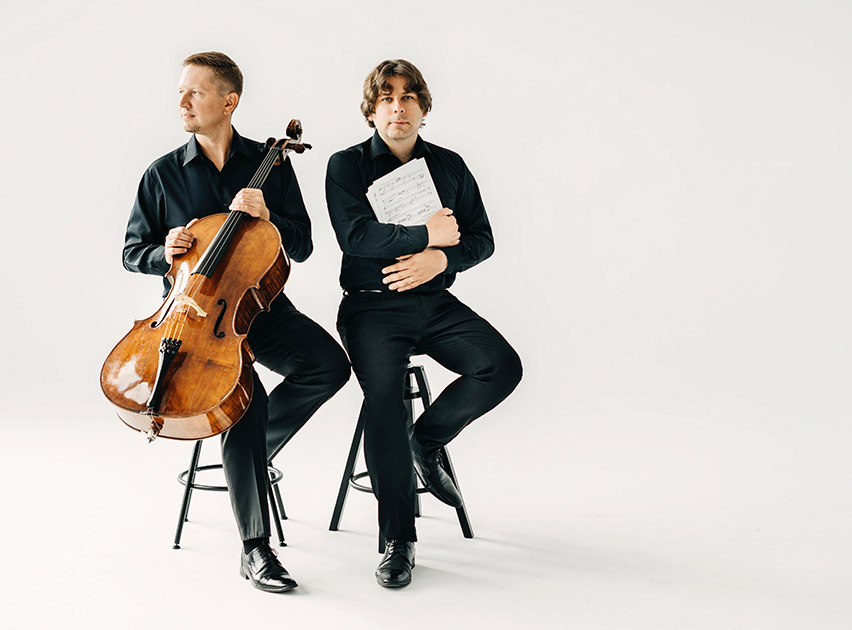 A special fundraising concert will feature the internationally acclaimed Cracow Duo, a virtuosos ensemble including cellist Jan Kalinowski and pianist Marek Szlezer. The concert, live auction and Epoch Estate Wines wine reception will take place on Saturday March 19, 2022, at 3 p.m. in an exclusive residence on Paso's westside.
Cracow Duo recently celebrated their twentieth anniversary of concertizing all over the world recording a number of CDs. Both performers are also full tenured professors at the Academy of Music in Krakow. Their program in Paso Robles will begin with Chopin's brilliant Introduction and Polonaise, Op. 3, a youthful work written for Chopin's friend and patron, Prince Antoni Radziwitt an accomplished cellist, composer and politician.
For more information on the program, please click here.
Click here to PURCHASE TICKETS.
The concert is a fundraiser for Paderewski Festival's unique Cultural Exchange Program in Poland this summer. Two finalists from the Festival's annual Youth Competition will be selected for the program and accompanied by a chaperone. The students will participate in master classes given by several distinguished professors, spend a week at the Malopolska Talent Academy in southern Poland, and perform in concerts in several Polish cities. They will also visit places associated with Chopin and Paderewski and learn about Polish music and history. This program runs for about two week and is funded entirely by the Festival, including airfares for the students and chaperone, tuition and housing at the Talent Academy, as wll as hotels in Warsaw and Krakow and local transfers. Preliminary cost estimated for this year's Cultural Exchange Program is $10,000-$12,000.
Following the concert, the event will feature a live auction and Epoch Estate Wines wine reception.
Click here to PURCHASE TICKETS.
For more information about the concert, becoming a sponsor and/or the Cultural Exchange program, call Marjorie Hamon, President of the Paderewski Festival Board of Directors, at 805.238.6985.
*As we return to live, in-person events, our main goal is to create a safe environment for everyone to enjoy this fundraising concert. The current situation has made it necessary to institute the following health and safety protocols for all concert attendees:
1. Proof of vaccination (and ID) for all eligible individuals with either a vaccine card, digital record, or a completed negative Covid test within three (3) days of the fundraising concert date will be required from all performers, audience members, volunteers and staff. This requirement does not apply to children under 12 years of age. Guests meeting this requirement will have access to the concert.
2. Hand sanitizer will be provided in high traffic areas, but we highly recommend having your own supply of disinfectant for personal use, as needed.
3. Face masks must be worn covering the nose and mouth while indoors. Exceptions to this requirement will be made only when consuming food or beverages. The Festival staff will provide face masks for those who may need them.
Please note that these policies are subject to change as the California health and safety landscape continues to shift daily. Regardless of this challenge, the Paderewski Festival staff will make every effort to ensure that your concert experience is enjoyable. Live music has a great healing potential and sharing with audiences in a safe way should bring a measure of normalcy. We look forward to seeing you at the March 19 concert and sharing with you great and memorable moments together.